When your Land Rover radio or stereo unit becomes disconnected from the battery, usually due to a garage service or a loss of power, it will automatically lock and prompt you to enter its unique radio unlock code. As this is an anti-theft feature it's not possible to unlock a Land Rover radio without this code, but getting hold of your radio code is an easy process that can be done in minutes. Many dealerships and online generators decode the radio code from the VIN number, but there's a good chance that this code will be incorrect for your radio.
The most accurate way to get your Land Rover radio's code is by decoding it from the radio's serial number. This will look like one of the following examples:
M123456 (starts with M, followed by 6 numbers)
BPXXXXXXXXXXXX (starts with BP, followed by 12 numbers or letters)
There are two methods to find this serial number – a fast one and a slightly slower one.
Careful
Always double-check that the serial number you enter matches the serial number on your radio's display or sticker label, as we are usually unable to offer refunds for radio codes decoded from incorrect serial numbers.
Method 1: the quick way
If your Land Rover radio/stereo unit has number preset buttons, you may be able to reveal the serial number on the display without removing your radio. Try briefly holding down buttons 1 and 6 for at least 3 seconds. If nothing changes on your radio's display, try holding down buttons 2 and 6 instead.
If this method worked, the display will show your radio's M serial number, or may display a longer serial number with the M serial number towards the end of it.
If your radio doesn't change at all when holding down either 1 and 6 or 2 and 6, or your radio doesn't have any number buttons, then you'll need to remove your radio to get the serial number from its sticker label.
Method 2: removing your Land Rover radio
Don't worry – removing your radio isn't as hard as it sounds, but it is the hardest part of getting a radio unlock code, which means that once you've done it the rest is easy. For most Land Rover radio models, the only tools you will need are a standard Philips (round/crosshead) screwdriver and a pry tool, which can be found for cheap from your local Halfords or not-so-local Amazon store. To find the easiest and most specific instructions needed to remove your Land Rover radio, click here to search YouTube with your vehicle's model and model year - for example, how to remove Land Rover Defender 2020 radio.
Identifying your serial number
Once you've removed your radio from the dash, look for a sticker label containing the radio's serial number. Note that we are currently only able to support serial numbers beginning with M or BP.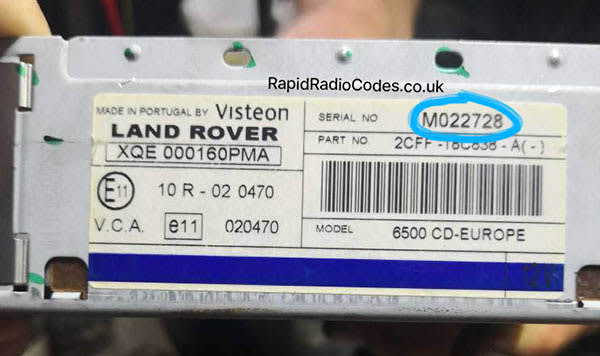 For BP serial numbers we may also ask for a part number to guarantee that the radio code we generate for you is accurate - the part number is located on the same sticker label as the serial number, starts with 7 6 and consists of only numbers and spaces.
Once you have your serial number, all that's left is to enter it into our Land Rover radio code decoder and generator at the top of this page.