When your Kia radio become disconnected from the battery, usually due to a garage service or a loss of power, it automatically locks and begins to ask for a radio code. As this is an anti-theft feature it's not possible to unlock a Kia radio without this code, but getting hold of your radio code is an easy process that can be done in minutes. Many dealerships and online decoders also claim to generate the radio code from the VIN number, but there's a good chance that this code will be incorrect for your radio or stereo.
The most accurate way to get your Kia radio's code is by generating it from the radio's serial number. The serial number will be some letters followed by some numbers, similar to the following examples:
BTC12345678
BTC12345678
BQ12345678
FSV12345678
HM1234567
MC12345678
MP12345678
MQ12345678
This will be located on a sticker label on your radio, and you will need to at least partially remove the radio or stereo unit from the dash to be able to see it.
Removing your Kia radio unit
Don't worry – removing your radio from your dash is not as hard as it sounds, but it is the hardest part of getting a radio unlock code, which means that once you've done it the rest is easy.
For most Kia radio models, the only tools you will need are a cheap pair of radio removal keys that can be found at your local Halfords or not-so-local Amazon. First, look carefully around the front of your radio for two to four slots. These will be either flat and key-shaped, or square-shaped. If your radio has key-shaped slots (image 1), you'll need these radio removal keys.
If your radio has square slots (image 2), you'll need these radio removal keys. In a pinch, you can also try using everyday items that will fit into the square slots, such as barbeque skewers or screwdrivers, bearing in mind you'll need one for each slot that your radio has.
If your radio does not have any visible slots to insert your radio removal keys into, you will first need to pry away the outer plastic trim from your radio to reveal the radio removal slots underneath. In these cases we recommend searching YouTube for how to remove your radio along with your car and model year - this will give you the most specific, detailed instructions on removing your radio.
Once you have your radio removal keys, insert each one into your radio's removal slots until you feel some resistance or hear a click. Finally, start pulling your radio/stereo unit out while pushing up or down on the removal keys - this will give them enough grip to pull out the radio.
In most cases it should now be possible to see the sticker label on your radio without disconnecting any wires. If so, take a photo of the label and then insert the radio back into the dash. If there are several labels and you're not sure which you need, take a photo of each one just in case. If you still can't get access to your radio's label, carefully disconnect the few wires from the back of the radio, paying attention to which one goes where for when you need to reconnect it.
Identifying your serial number
Your Kia radio's serial number will look similar to the examples in this section above, usually consisting of some letters followed by some numbers (image 1). Occasionally your serial number will not be clearly marked, but placed somewhere below the barcode on the label (image 2). If you're having trouble identifying your serial number, send us a picture of your radio's label and we'd be happy to help identify it for you.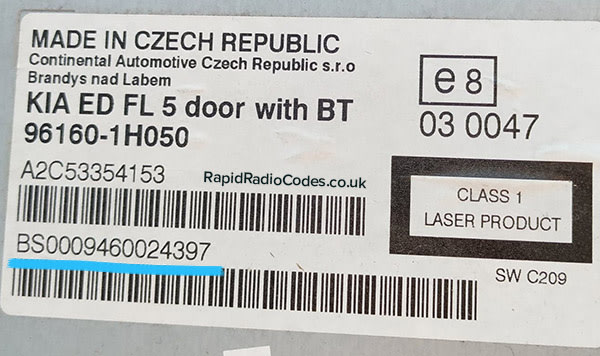 Once you have your serial number, all that's left is to enter it into our Kia radio decoder and generator at the top of this page.
Careful
Always double-check that the serial number you enter matches the serial number on your radio's display or sticker label, as we are usually unable to offer refunds for radio codes decoded from incorrect serial numbers.
If your serial number isn't clearly labeled, feel free to send us a picture of your radio's label and we'd be happy to work with you to find your radio code.